.
The BioBelt is a triad of:
1) Far Infrared Heat
2) Negative Ions
3) Gemstones – featuring eight semi-precious stones: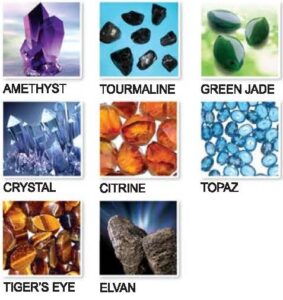 The BioBelt fits around the waist and can be especially helpful with lower back pain. Far infrared heat helps provide relief by:
Dilating blood vessels of muscles, increasing oxygen and nutrients to muscles and helping to heal damaged tissue.
Stimulating the skin's sensory receptors which decreases pain signals to the brain and minimizes discomfort.
Softening muscles and tissues to decrease stiffness and increase comfort.
The BioBelt features 11 layers of high-quality construction including EMF interception, quantum energy layers (organic compounds of peach and grape seeds), thermal insulation and protection, and TOCA layer (emits strong negative ions). It is particularly effective when used with the professional-size BioMat.
BioBelt Specifications:
Dimension of Infrared Heating portion is 18″ x 8.25″
Regular BioBelt size is 55″ x 5″
Extra large BioBelt size is 63″ x 5″