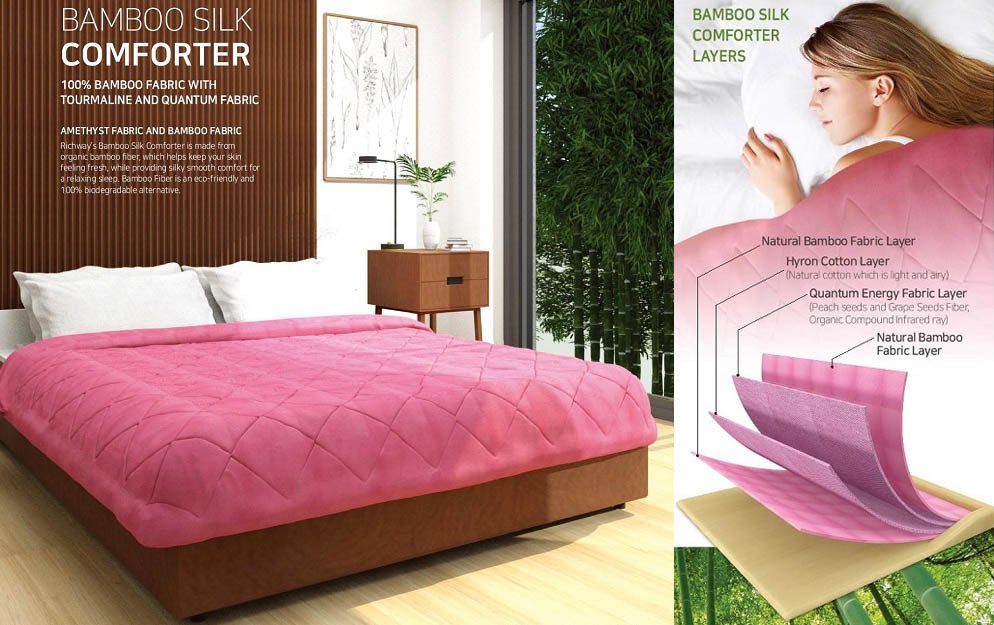 Announcing the new Bamboo Silk Comforter! It is made with 100% bamboo fiber, tourmaline and quantum fabric. While providing silky smooth comfort, it helps keep your skin feeling fresh and promotes a relaxing sleep. Bamboo fiber is eco-friendly and a 100% bio-degradable alternative. Perfect for sleeping on a BioMat and covered up with the new Bamboo Silk Comforter! As shown, it is available in the beautiful rose/mauve color; dimensions are 84″ x 64."
In the photo above, you can see the Bamboo Silk Comforter consists of four layers: 1) and 2) top and bottom natural bamboo fabric layers, 3) Hyron cotton (natural light and airy cotton), and 4) quantum energy fabric (organic compound infrared ray fabric plus peach and grape seeds fibers).
Benefits of bamboo fabric:

Soft – perfect for sensitive skin, allergies or prone to rashes.
Odor Free – antibacterial properties that help you feel rejuvenated.
Hypoallergenic – bamboo is a natural hypoallergenic and doesn't cause allergic reactions.
Power Insulator – keeps you warmer in the winter and cooler in the summer.
Highly Absorbent – absorbs your body moisture, and helps keep you dry and fresh while it wicks away sweat.
Breathable – easy for air to pass through.
Most Eco-Friendly Fabric – bamboo grows quickly with little water and no pesticides or fertilizer. It is the fastest growing plant in the world, regrowing easily and even helping rebuild eroded soil.
Richway's Contribution to the GO GREEN MOVEMENT (GGM)!

The Go Green Movement encourages all of us to think of new ways to be more environmentally conscious and friendly to our planet. After all, we all live here and have a responsibility to keep it safe and sustainable.
A new type of sustainable fabric is coming to the forefront to help save the planet. Now, with the advancement of manufacturing techniques, fine silky threads can be spun into clothing and textiles – all made from bamboo. The Bamboo Silk Comforter incorporates the latest eco-friendly technology available!
Richway and its team of distributors is excited to offer this renewable alternative and be a part of the Go Green Movement!