Richway International Information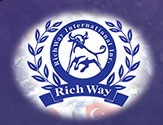 Richway International information may be helpful to you since they are the parent company of the BioMat. Started in 1997, it is based in Honolulu, Hawaii.
Richway has developed a unique line of products of exceptional quality with health benefits. These products include the BioMat (in several sizes) and the Alkal-Life Water Ionizer. Richway is committed to high-quality workmanship and first class customer service for its entire health-related product line.
You can experience a healthier, more balanced life using the combination of Richway's technology, ancient wisdom and nature's elements. Further, Richway International has gone the extra mile to make sure all of its products are as safe as possible. The products have been tested in the United States, as well as in Korea and Japan. (It has received FDA approval + ISO, KETI and CE safety certifications.)